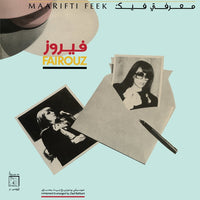 Fairouz is the Arab world's most celebrated living voice, whose music can be heard pouring from the streets and cafes from Tunis to Ramallah, acting as a trait-d'union between countries and generations. As the proverb goes, "Lebanese people disagree on everything, except Fairouz."
Her song "Li Beirut", an ode to the city where she was born and still lives, sounded ever so poignant in the aftermath of the terrible explosion which destroyed part of the city in September last year. Previously almost impossible to find on vinyl, this song had become available again thanks to We Want Sounds reissue of the seminal Maarifti Feek album, which follows on to the no less essential Wahdon the previous year (the album which contains "Baatilak" and "Al Bosta", my two favourite tracks of hers). 
Both albums were produced by her son Ziad Rahbani, the genius producer who introduced jazz and funk arrangements to Fairuz repertoire when he took over from his dad Assi Rahbani (Fairouz's husband and one half of the 'Rahbani brothers') as the singer's musical director and composer (see review of Rahbani's reissue below). Every music lover's home should own some of Fairuz' music, and Maarifti Feek is one of her classics.
Just listen to the enchanting beauty of "Version 1" and be forever conquered.