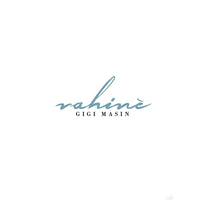 Two years on from the stunning Calypso LP, the master of electronic textural ambience Gigi Masin has returned with his latest offering, the first release of a brand new label, Language of Sound. Composed of just six tracks, Vahine is much more concise than its expansive predecessor, though the emotional spectrum on display remains remarkably wide as the album was conceived as a tribute to Gigi's recently departed wife. 

The album opens in familiar Masin territory with the warm and mesmerising Marilene (Somewhere in Texas), a floaty Balearic number which features a softly plucked kalimba and delicate piano lines cosmically dancing in a seabed of nautical synths. As peaceful an intro as can be, until the music then shifts into somewhat darker moods with Barumini, a pulsing and atmospheric deep techno jam reminiscent of a 6am post rave comedown circa '92.
The beats then disappear on Shadye as we are sent eerily levitating in a daydreamed phantasmagoria of blinding lights and angelic voices. Flipping the record over, the dancing returns with 'Malvina', a dreamy, trance-like, full on cosmic beauty of a tune, like a long lost ethereal Alan Parsons' on shrooms out-take (it's a good thing!).
The track Valerie Crossing is Gigi's inspirational tribute to his beloved wife, a poetic exploration of where souls go when departing their earthly bodies. A deep, mystical and ultimately hopeful celebration of death. Truly majestic.
"I told myself that maybe at the end of the road it's possible to realise dreams, and I'm sure that she's finally able to dance like never before, and is able to move without any impediment, with no suffering, free to make all the movements that she couldn't make for so long, turning to me with a smile and a wink." 
Then comes the extraordinary "Vahinè" (woman in Tahitian), the album's closing track, which was inspired by a documentary on traditional Tahitian dance which Gigi watched during the night following his wife's passing. An aerial, Plaid-ian funk groove from above to make us all dance together into eternity. 
"So, in the clouds, you will discover and see an extraordinary 'Vahinè', because she will move and dance and smile until the end of time."