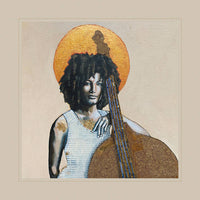 The debut album from double bassist, singer and poet of Martinican heritage is a most unique work of art, showing incredible maturity despite her being only 25 years of age (!). Hands down the biggest "discovery" of 2020.
Oscillating between contemporary jazz, classical and ad lib poetry, Mare Undarum was recorded with Saint-Aimé on double bass and vocals, Guillaume Latil on cello, Mathias Lévy on violin, Irving Acao on tenor sax, Hermon Mehari on trumpet, and Guadeloupe's Sonny Troupé on ka and drums.
The music, a unique blend of classical music with Afro American jazz (both Steve Coleman and Ron Carter acted as her mentors) and Afro Caribbean rhythms, displays incredible vocal flexibility (in a made-up tongue) and exudes total freedom on the double bass.
A fantastic album from start to finish, whose freshness will surprise you with each and every revisit. 'Mare Undarum Part II' and especially the Heitor Villa-Lobos composition "Valsa – Choro" on which Saint-Aimé sings and ad libs in breathtaking fashion are some of the highlights of a faultless album. I for one haven't heard anything more original and more beautiful last year. The instrumental piece "Cum Mortuis In Lingua Mortuis", which features Irving Acao on tenor saxophone on a composition by Modest Mussorgsky closes this set, which surely, in years to come, will become a landmark album for a new direction in jazz music.
Most importantly with such delicate and magnificent music, a lot of effort has been put into the quality of the recording, and the vintage sounding production is spot on. Warm, open and natural, you can clearly SEE the musicians playing in your living room. The ears of renowned producer Antoine Rajon are behind Komos, a label which can be trusted blindly. This repress is limited to 300 copies and comes in the form of an audiophile friendly translucent vinyl.