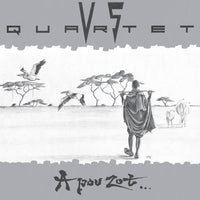 A Pou Zot ("For You Guys" in Creole) was the first album featuring bassist Victor Sabas as leader of his own quartet. It was originally released in 1986 as part of an anonymous series created to group French releases with no label branding. So far so obscure, and no surprise if you hadn't heard about its existence before. Thankfully some of the hardcore diggers and jazz lovers did hear it though, and especially Julian Achard who has now reissued the LP in its full glory on his ever reliable Digger's Digest label. 
Hailing from French Guiana, Victor Sabas formed the quartet in Paris with the legendary Martinican pianist Mario Canonge, Guadeloupean drummer Serge Marne (who by then had played with the likes of Roland Louis, Barney Wilen, Abel Lima, West African Cosmos and Jobby Valente), and Brazilian percussionist Dosty Dos Santos (of Os Maracatu fame). After spending years honing their sound, they recorded their first and unique album in just six hours (!), an incredible feat that is even more spectacular given the depth and synergy on display.
The set kicks off with 'Mr J.C.', a splendid homage to Coltrane in his modal era, before sliding nicely into the rootsier 'Tradition' and its splendid fusion of Afro-Latin rhythms and influences. Already, this is Caribbean jazz at its very best - and we haven't reached the B side yet. Here we first get to groove to 'FA', an uplifting New Orleans-meet- the-Caribbean number composed by Allen Hoist, an American musician based in France at the time, before being presented with the marvellous title track 'A Pou Zot'. Already a bit of a classic since its inclusion on the Freedom Jazz France comp from a few years back (compiled by Achard), the track is the centrepiece of the set, with the quartet at the very top of its magical powers, evolving effortlessly between modal, spiritual and Caribbean jazz. 
A true masterpiece which should by no means eclipse the closing track 'Feliz', a heavenly cosmic ballad on which Hoist carries the theme on the saxophone, while Dos Santos takes over from Canonge on piano and literally steals the show, building up to an incredible finale. The sound on this reissue is warm and dynamic, giving full justice to the depth and subtleties of this deep jazz "holy grail". Truly unmissable.

Words by Cedric Woo