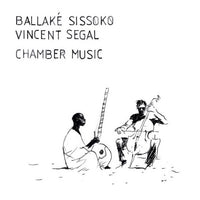 Ballaké Sissoko is a kora master from Mali and Vincent Segal a French cellist who's played and collaborated with an impressive array of musicians, ranging from Gabon's folk poet Pierre Akendengue and French hip hop star Akhenaton to Marianne Faithful on her latest album "She Walks In Beauty". The unlikely duo first paired together in 2009 and mesmerised everyone with their stunning Chamber Music album. They reunited a few years later for Musique De Nuit, a neoclassical fusion album that can only be described as magnificent, and a summit of both their careers.
Sissoko and Segal, who have spent years touring together everywhere from Bamako to Paris, recorded this album in two sessions in the Malian capital - one at night on Ballake's rooftop, and the other during the day in the famed Bogolan studio. "We've always had this connection to the oral tradition," Segal says, "and improvisation, and clarity of discourse." 
Improvisation is indeed at the heart of the duo's magical interplay, as the pair take turns to supply rhythm and melody and the music navigates between soft, beautiful late night moods and lively, dance-based melodies.
Ballake's stunning pizzicato dance on 'N'kapamela' is a real highlight of the set, as is the majestic and groovy 'Super Etoile' (named after the band that launched the career of the Senegalese superstar Youssou N'Dour), on which he duo explores Senegal's mbalax rhythms.
Brazilian flavours are also evoked on Samba Tomora, while 'Diabaro', the only song on the album featuring a guest musician, pays tribute to the sounds of traditional griot singing with the incredible vocals of Babani Kone.
Entrancing stuff all the way, timeless music of spellbinding beauty, Musique De Nuit is an album that you will reach out for solace time and time again.