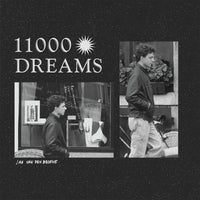 11000 Dreams gathers the best of Van Den Broeke's inspired and original output, previously self-released on cassette and CDR over three decades. It highlights Jan as a low-key maestro of synthesiser music, with a strong leaning towards new-age atmospheres and synth-wave quasi-pop. Blurring boundaries between ambient and song, with music assembled in layers, using electronic and acoustic instruments and off kilter samples from radio, tv, field recordings or movies. As a young musician growing up in  Belgium in the 80s, he was admittedly influenced by the output of cult labels like Les Disques du Crépuscule and Crammed, but the compilation shows a broader quest towards a personal sound.
A number of sublime June11 works - his most recent project, dating to the last decade - bookend and dominate the set, opening with 'White Bird', a (previously unreleased) floaty atmospheric pop nugget about a plane that went missing, and then occupying the whole of B side. These works show the more cosmic and atmospheric side of the artist, and perhaps his more mature. Either way it's a joy to get immersed into on a rainy Sunday afternoon.
The other six tracks presented here are vintage recordings dating back to '84-'88, acting like a time capsule for the unique and personal chamber pop music Van Den Broeke was releasing at the time (under his Absent Music and The Miss aliases). A strong DIY feel of skewed downtempo pop permeates these tracks, like on the Durutti Column-esque shimmer of 'Akihito' or the underwater sounds of 'My Lesbian Girlfriends'. Another highlight is 'A La Recherché de B.L.', a song dedicated to Van Den Broeke's mentor Benjamin Lew (of whom STROOM also recently compiled the music he released as part of the Made to Measure series - check the review below).
All in all this is a fascinating set of dreamy, esoteric yet always melodic ambient pop, which displays a truly personal sonic world.