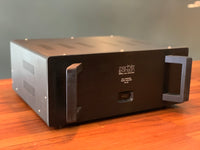 The Mark Levinson No.29 is Madrigal's lowest-powered, lowest-priced amplifier 50Wpc Class A Dual-mono design. It is essentially two separate amplifiers on a single chassis. It has 4 binding posts on the back makes it easy for bi-wiring speakers. Excellent focus, depth, and detail. Voices and instruments feel sharply placed. 
Specs: 
Power output: 50Wpc into 8 ohms (17dBW), 100Wpc into 4 ohms (17dBW), 175Wpc into 2 ohms (16.4dBW)
Dimensions: 17.5" W by 6.9" H by 14.6" D. Weight (shipping): 60lbs.