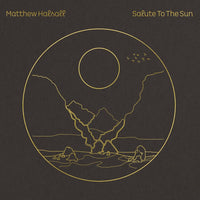 After a year in which most of us seem to have found a reborn connection with nature, especially the one closest to your doorstep and which you had been oblivious of in pre pandemic times, Salute to the Sun comes as the perfect soundtrack. The spirit of nature is constantly invoked throughout this splendid, atmospheric tribute to the living world. The kind of album you want to put on the turntable first thing on a sunny (Sunday) morning.
Matthew Halsall is a composer, trumpeter, producer, and the founder of Gondwana Records, one of the most interesting modern UK labels in the spiritual jazz/new age/neo classical bracket (you can read Paradise Cinema's review elsewhere on this site, and check out this stunning recent live performance by pianist Hania Rani). A real busy, multi talented man indeed, who spent much of the last decade reinterpreting 70s spiritual jazz for the 21st century. 
In seven immersive compositions, whose titles directly evoke the transcendental mood of the album ('Harmony with Nature', 'Canopy & Stars', 'Mindfullness Meditations', 'The Energy of Life'), Halsall and his new band (picked from the next generation of Mancunian musicians) unhurriedly explore the humid sounds of the tropics.
"I feel Salute to the Sun is a positive earthy album. I wanted to create something playful but also quite primitive, earthy and organic that connected to the sounds in nature. I was listening to lush ambient field recordings of tropical environments such as jungles and rainforests and found myself drawn to percussive atmospheric sounds which replicated what I was hearing (bells / shakers / chimes / rain sticks) and I started to experiment with more wooden percussive instruments such as kalimba and marimba"
Meditation and contemplation of the natural world are channeled through the spirits of Alice Coltrane ('Joyful Spirits of the Universe', 'Salute to the Sun'), Don Cherry or Yusef Lateef, all echoed in Halsall's modal, spiritual, transcendental and 'tropical landscapes'. Marimba, kalimba and a great presence of a harp (played by Maddie Herbert) enhance the organic, earthy feeling of the music.
Rich and delicate, Salute to the Sun is bursting with life energy, to be suitably channelled thanks to an audiophile friendly half speed mastering, double LP and splendid cover artwork.