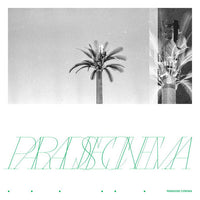 Jack Wyllie is the saxophonist ex member of the fantastic Portico Quartet, and Paradise Cinema is his first solo project. Recorded in Dakar in March 2017 with local musicians but with additional production added in 2020, this was definitely one of the most original album of 2020.
The musician, composer and electronic producer draws on influences of jazz, ambient, and the trance-inducing repetition of minimalism. Here percussive mbalax rhythms are layered with atmospheric textures to create a dreamy, transcendental fusion reminiscing of Jon Hassell's fourth world, on "Casamance" and "Paradise Cinema" especially.
Other highlights such as "Digital Palm" have a strong cinematic feel, like the dreamed soundtrack of Dakar at night. In fact it sounds exactly like Wyllie's self described experience of being in a hypnagogic state of aural consciousness: "I had a lot of nights in Dakar, when the music around the city would go on until 6am. I could hear this from my bed at night and it all blended together, in what felt like an early version of the record."
 'Paradise Cinema' is also informed by notions of hauntology – a philosophical concept originating in the work of French philosopher Jacques Derrida – on possible futures that were never realised and how directions taken in the past can haunt the present. And while it contains rhythmic references to Senegal, it combines these elements with ambient and minimalist music to produce a sound that sits outside of any tradition – an attitude to music which we fully embrace. 
The kind of record to be listened to from the sweet spot of a four (or five!) Klipschorns system, preferably in a pitched dark room in order to get the full paradise cinema effect.