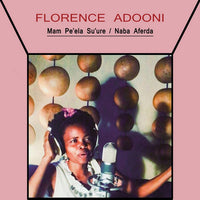 'Mam Pe'ela Su'ure' is a sublime piece of modern Afro psychedelia, a fresh take on the frafra-gospel genre from northern Ghana. Equally deep, percussive, floaty and soulful, this treasure of a track sounds like a BATB end-of-the-night classic already. Such an irresistible groove which will have you smiling with your eyes closed in the middle of the dance-floor.
Florence Adooni has been revered as the queen of frafra gospel for some time now, but she's also been one of the movers and shakers within the Philophon family. This fantastic label, from Berlin but based in Ghana (where it runs its own Joy Sound Studios), has been releasing an incredible run of modern Afro 7s" since 2014, fusing genres and giving fresh takes to roots music(s). Collectors beware, these are really (almost) all essential! Her label mates include Guy One and Jimi Tenor for whom she sang on two of the label's hits ('Estre' and 'Vocalize My Luv').
On the flip the slightly rawer 'Naba Aferda' is almost as good, an Afro psychedelic funk cut which was made as an homage to the chief of Adooni's home village which, incidentally, was also the home village of the legendary Christy Azuma, who became the first international frafra star in the 70s. Strong candidate for 7" of the year already!